Nick Perna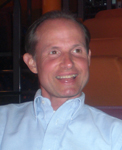 Nick Perna is a National, International, and World coach and has been coaching for over 30 years.  He's been on the faculty of several Team USA Training Camps and has been instrumental in the development of many skating champions worldwide.  His students have included Michael Weiss, Sasha Cohen and Sarah Hughes and all have benefited from his innovative coaching ideas and knowledge of the hand-held jump harness.  Nick is a US Figure Skating Gold Medalist and a PSA Master Rated Instructor in Freestyle and Pairs.  He's also been a presenter at several PSA Conferences.  Nick was a World Coach at the 2001 World Championships with Christine Lee.
Nick is perhaps most well known for his pioneering and promotional work with the hand-held jump harness.  The hand-held harness, also called a pole harness, allows skaters to use their normal jump entries while providing safety, a sense of security, and added flight time when attempting difficult jumps.  Nick has used the hand-held harness since it was created.  In fact, because he's been using the pole harness so often and for so long, almost everyone in the skating industry thinks he invented it.
Although Nick did not invent the hard-held harness, he has invented a number of other skating-related tools and equipment.  He holds Patents on several different inventions, including his latest, the "Freedom Blade."  To learn more about his inventions, please see this article at About.com.
Nick has been teaching with Olympic coach Audrey Weisiger for over thirty years at the Fairfax Ice Arena in Fairfax, Virginia.  Nick is also a faculty member of Audrey Weisiger's Grassroots to Champions seminar series.  Nick regularly works with skaters from around the country and around the world.
Most recent videos at the top…