Robert Tebby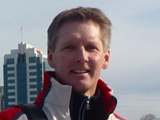 Robert Tebby is a 5-time Olympic Team Coach with over 35 years of coaching experience with skaters of every skill level, from beginners through the World and Olympic level.  He is a Level 4 certified coach in Canada and has coached at 18 World Championships.
Robert is or has been a national team coach or consultant for skaters from Canada, USA, Germany, Great Britain, Finland, Republic of Korea, The Netherlands, Turkey, Australia, and Hong Kong.  The list of elite skaters he has worked with is literally a who's who of top skaters in the sport.
As a coach and consultant, Robert enjoys developing and implementing training and competition plans tailored to enable skaters to realize their full potential.  He also takes pride in providing athletes with a positive training environment.  Robert is perhaps best known as a jump specialist all way through the quads.  He coaches primarily at the Mariposa Skating School in Barrie, Ontario, Canada.
Most recent videos at the top…