"The Most Thoughtful (and Smart) Gift




You Can Give a Skater or Coach"
In fact, it's almost like giving yourself a gift!
Thank you for your interest in our gift subscription.
THE FACTS:  Who will benefit from our 2-Month Gift Subscription?
The fact that you're here suggests you know someone in figure skating who could benefit from our educational videos.
If you're a skating parent, you might be buying a gift for your skater, or your skater's coach.
If you're a coach, you might be buying a gift for a coaching colleague of for one of your skaters
If you're a skater, you might be buying a subscription for your coach or for another skater
Whatever your situation, we've got you covered.
THE FACTS:  What is the 2-Month Gift Subscription?
Our gift subscription is a single, one-time payment of $59.94 providing Premium website access to the gift recipient for 2 months.  This is the same "monthly" price and same level of access enjoyed by all of our Premium Monthly subscribers.

1 Payment of $59.94

Premium access means the recipient has access to EVERY video on the website, including ALL videos in our archives.  That's over 1200 information-packed videos from top coaches.
THE FACTS:  Why a Gift Subscription?
You already know why a gift subscription is one of the best gifts you could give a skater or coach.  It provides knowledge and skills and understanding that will create breakthroughs on the ice.
Hundreds of coaches benefit every day from their iCoachSkating subscription.  The site provides literally thousands of important tips to solve almost any problem.
 And skaters themselves benefit as well.  Many skaters use iCoachSkating as an affirmation of what their coach is already teaching them, with additional insights and revelations from elite or specialist coaches.
The goal is Breakthroughs!
Coaches that use iCoachSkating are more likely to help their skaters make regular breakthroughs.  At iCoachSkating they're exposed to dozens of different tips and tricks every month.
And that doesn't even account for the "aha moments" associated with a better understanding of skating theory.  Tips and new drills are one thing…  a new understanding is priceless!
Skating parents buying a gift subscription for a coach are doing their own skater a huge favor.  At iCoachSkating we say…
"The best way to help your skater, is to help your coach!"
Think about it.
If your coach is better, won't that make your skater better?
But sometimes, a gift subscription is even more valuable when given directly to a skater.
Why?
Some skaters are so passionate about skating that they crave information.  They want to understand every detail to help them accomplish their goals.
And although they learn a lot from their coach, iCoachSkating can fill in the gaps in their understanding and provide additional drills and exercises for them to master a skill.  Sometimes a single drill can make all the difference.
Also, most coaches have no way to match the experience level of the top coaches on iCoachSkating.com.
"There's just no way an average coach
with limited coaching time can compare
in terms of knowledge and skill with
some of our elite coaches.
Some of our presenting coaches have
more than 50,000 hours of coaching
experience, EACH!"
Skaters can take advantage of this by supplementing the information they get from their regular coach with additional information from iCoachSkating.
THE FACTS:  Features
Here's a few more details about what exactly you'll be giving.  The recipient of your gift will get:
 A searchable archive filled with more than 1200 videos on every topic related to singles skating.  Your gift recipient can find exactly what they need, when they need it.
Roughly 8 new videos posted to the website every month.  Your gift recipient can stay current with a continuous stream of NEW information, with the latest tips, advice, and potential breakthroughs.
Email notification with additional information for every new video posted on the website.  With even more information, additional insights, and analysis, your gift recipient will be able to get maximum benefit from every video.  Plus they are constantly reminded to use your gift!
Online streaming videos from some of the best coaches in the world.  The best coaches in the world are the best for a reason.  They've mastered an understanding of the sport, and they've developed extremely effective drills and exercises.  Sometimes just one new drill makes the difference for a skater stuck on an element.
Fluff-free videos containing only critical information.  Unlike other sources who publish long and boring presentations, our videos are edited such that most of the non-teaching filler is removed.  This saves tremendous time.  Information is precious, but time is even more precious.
 And there's a lot more.  The above doesn't even take into account that this educational resource is available 24 hours a day, 7 days week.  The videos can be streamed anywhere there's an internet connection, even at the rink!
So in terms of quality information and time and location convenience, there's simply nothing like it!
THE FACTS:  How do I buy and give the Gift Subscription?
To buy a Gift Subscription to iCoachSkating simply click the Add to Cart button below.  You'll be taken to a secure page where you'll pay for the subscription.
After you've paid, we'll send you an email asking for specific information about who the gift is for. All we really need is the FULL NAME and EMAIL ADDRESS for the gift recipient. (If the gift is for yourself, just reply and let us know!)
NOTE: It's possible our email could end up in your spam/bulk folder, so please look around for it. If you can't find it, use the form on our CONTACT US page.

The process is simple.
And our support team is ready to help you with any questions or problems you might have.

1 Payment of $59.94

Keep in mind, if you're not sure that a  gift subscription is right for your recipient, you are protected by our unconditional 30-day money back guarantee.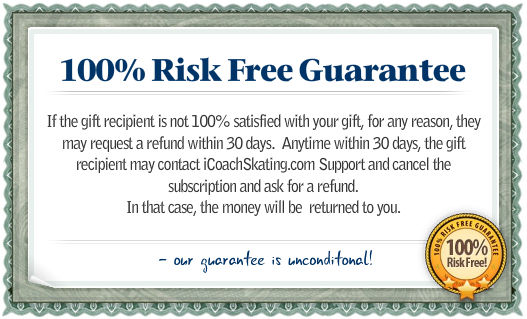 Our guarantee is UNCONDITIONAL!
Refund requests within 30 days are ALWAYS granted, regardless of the reason for the request.
By purchasing an iCoachSkating Gift Subscription, you're offering a unique and thoughtful gift that is likely to benefit many people.  Information is power.
Click the Add to Cart button.  The recipient (you?) will be thrilled.  (We guarantee it!)
Warmest regards,
Trevor Laak
Founder, iCoachSkating
P.S. One final note:  If the recipient receives more than one gift subscription or they already have an ongoing subscription with iCoachSkating, no problem.  Simply notify iCoachSkating Support and we'll take care of all the details.
This is a chance to give a potentially life-changing gift.  Your gift could ultimately create a powerful breakthrough on the ice, saving days, weeks, months, or even years of struggle and frustration.
Someone has already figured out how to solve all the problems that your gift recipient is having.  Give them  THE SOLUTION!

1 Payment of $59.94