Kori Ade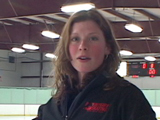 Kori Ade is an Olympic coach who teaches in Colorado Springs, CO.  Kori was named PSA Developmental Coach of the Year in 2011 and she is most well known for her work with 2014 Olympian Jason Brown.  She holds PSA ratings in Moves in the Field and Freestyle and she's an AFFA and F.A.S.T. Certified Off-ice Trainer.  Kori has a B.S. from Loyola University Chicago in Skeletal Biology.  She is also a respected hip hop dancer and choreographer who has worked for music industry and corporate clients including McDonalds, Sears, and Seventeen Magazine.
Kori is the creator of TAPS (Total Athlete Performance Seminars) which is intended to develop the "whole" athlete, including the mental and emotional aspects that play such a powerful role in successful training and competing at all levels.  Kori's skills are uniquely positioned to develop athletes with the "complete package."
She is a member of the coaching staff at Ice Castle International Training Center in Lake Arrowhead, CA.  She is also the founder of CitySkate Outreach which works with kids in need and the CitySkate Junior Staff Program designed to transition skaters into coaches in the Chicago area.
Most recent videos at the top…