Tom Zakrajsek
Tom Zakrajsek (pronounced Za-cry-sheck) is an Olympic Team Coach and he's coached in numerous World and National championships.  His skaters regularly place on the top of the podium at the US National Championships, and he's coached at least one US National Champion at each level (Novice, Junior, Senior, Men and Ladies).  Tom has been coaching since 1999 and he has a PSA Master rating in Freestyle and a PSA Level VII ranking.  He was the 2009 PSA Coach of the Year and the 1999 USFS Developmental Coach of the Year.
Tom coaches at the Broadmoor World Arena in Colorado Springs, Colorado.  He's well known for coaching 2022 World Bronze medalist Vincent Zhou, 2021 US Ladies Champion Bradie Tennell and 2018 Olympian Mirai Nagasu, the first US woman to land a triple axel at the Olympic Games. He's also worked with the following list of notable skaters: Rachel Flatt, Ryan Bradley, Agnes Zawadzki, Joshua Farris, Alexe Gilles, Ann Patrice McDonough, Marissa Secundy, Max Aaron, and Brandon Mroz.
In his coaching he emphasizes goal setting, hard work, discipline and the acquisition of life skills.  He is an esteemed jump technician and much of his coaching focuses on training his skaters for competition performance.  For low level coaches and skaters wondering how an Olympic coach of Tom's stature can help them, he developed Jeremy Abbott, Ryan Bradley and Rachael Flatt from the beginning levels of skating all the way to their National titles and the World Team; and with Flatt, the Olympic Games.
Recently, Tom has been using various social media platforms to share information about skating and coaching.  His goal is to share useful information and foster an online environment of sharing among coaches and skaters.  Please check out Tom's Facebook page, his Twitter feed, and his Instagram page for more information.  Tom shares even more information at his paid membership website http://coachtomz.com/.
Most recent videos at the top…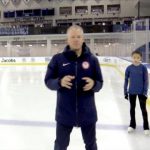 Barrier Step Up Exercise – Part 2 (Tom Zakrajsek)
World and Olympic coach Tom Zakrajsek continues his explanation of the "barrier step up exercise." In Part 1 Tom taught the first phase of the exercise, and in this video he teaches the second phase which he calls the "merry-go-round."…
Continue reading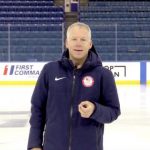 Barrier Step Up Exercise – Part 1 (Tom Zakrajsek)
World and Olympic coach Tom Zakrajsek teaches what he calls the "barrier step up exercise" which is important for learning proper jump air position and landing movements. This kind of exercise is important because it helps skaters learn these positions…
Continue reading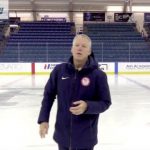 First Up, Second Up, Third Up (Tom Zakrajsek)
World and Olympic coach Tom Zakrajsek explains what he means by the terms "first up," "second up," and "third up" as these terms continue to be used more and more commonly among coaches and skaters. Tom says, "When I'm coaching…
Continue reading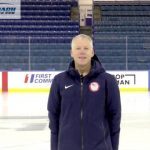 Big Muscle Backspin (Tom Zakrajsek)
World and Olympic coach Tom Zakrajsek discusses the importance of a "big muscle backspin" as a tool for improving jump air position. This is essentially a regular backspin with details that make it more valuable as a jump training tool.…
Continue reading

Figure Skating Axel Jump: How to Axel Part 7 (Tom Zakrajsek)
Olympic coach Tom Zakrajsek teaches an axel class at the Grassroots to Champions Supercamp held in Faribault, MN in July/August 2013.  This video is the seventh and final video in a multi-part series by Tom sharing the information he…
Continue reading

Figure Skating Axel Jump: More Axel Tips Part 6 (Tom Zakrajsek)
Olympic coach Tom Zakrajsek teaches an axel class at the Grassroots to Champions Supercamp held in Faribault, MN in July/August 2013.  This video is the fifth in a multi-part series by Tom sharing the information he covered in his…
Continue reading

How To Do An Axel – Axel Class Part 5 (Tom Zakrajsek)
Olympic coach Tom Zakrajsek teaches an axel class at the Grassroots to Champions Supercamp held in Faribault, MN in July/August 2013.  This video is the fifth in a multi-part series by Tom sharing the information he covered in his…
Continue reading

How To Do An Axel – Axel Class Part 4 (Tom Zakrajsek)
Olympic coach Tom Zakrajsek teaches an axel class at the Grassroots to Champions Supercamp held in Faribault, MN in July/August 2013.  This video is the third in a multi-part series by Tom sharing the information he covered in his…
Continue reading

How To Do An Axel – Axel Class Part 3 (Tom Zakrajsek)
Olympic coach Tom Zakrajsek teaches an axel class at the Grassroots to Champions Supercamp held in Faribault, MN in July/August 2013.  This video is the third in a multi-part series by Tom sharing the information he covered in his…
Continue reading

Learning an Axel Jump – Axel Class Part 2 (Tom Zakrajsek)
Olympic coach Tom Zakrajsek teaches an axel class at the Grassroots to Champions Supercamp held in Faribault, MN in July/August 2013.  This video is the second in a multi-part series by Tom sharing the information he covered in his…
Continue reading

Learning an Axel Jump – Axel Class Part 1 (Tom Zakrajsek)
Olympic coach Tom Zakrajsek teaches an axel class at the Grassroots to Champions Supercamp held in Faribault, MN in July/August 2013.  This video is the first in a multi-part series by Tom sharing the information he covered in his…
Continue reading