Madison Hubbell and Zachary Donohue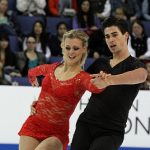 Madison Hubbell and Zachary Donohue are World and Olympic ice dancers. Madison and Zach are two-time World Ice Dance medalists (2018, 2019). They also competed in the 2018 Olympics where they placed 4th. They currently train in Montreal and their coaches include Marie-France Dubreuil, Patrice Lauzon, Romain Haguenauer, Pascal Denis, Josee Pichet, Ginette Cournoyer, and Samuel Chouinard.
From time to time, Madison and Zach teach at skating seminars where they focus mostly on skating skills and choreography. We are very luck at iCoachSkating to have their unique perspective on skating and coaching.
Most recent videos at the top…